The Ultimate Online Backup
My Backup Drive is the ultimate tool backing up your data. My Backup Drive combines online backup, an automated backup scheduler, file versioning, and worldwide accessibility to your data in one easy-to-use backup solution. If you're still using an external hard drive for backup or worse, not backing up at all, send your data to the cloud with My Backup Drive. Our automated software and powerful network of servers will keep your data protected and easy to access.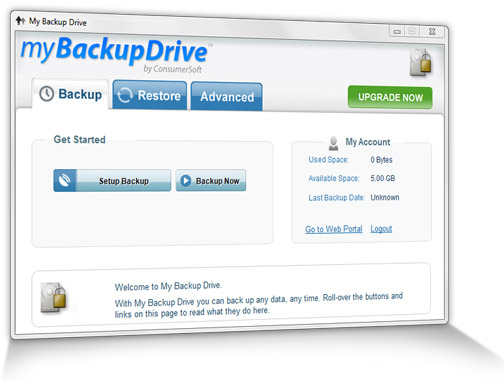 My Backup Drive makes it easy to select the files, folder, drives, and disks that you want to backup. You can easily search for specific types of files, select locations like My Documents, and then set your backup schedule to run as often as you like. My Backup Drive also lets you make a local backup to an external drive for additional backup convenience.
My Backup Drive Features:
Online Backup to the Cloud
Backup Support for 5 PCs
Unlimited File Versioning
Redundant High Speed Data Centers
Secure Data Storage and Encryption
Optional Local Backups
Easy Automated Scheduler
Worldwide Access to Your Data
Optional White-Glove Support
Ready? Get My Backup Drive...
Backup your data today with My Backup Drive. It's easy, secure, and available anywhere. Don't risk losing your valuable files, photos, and digital memories. Get My Backup Drive Today!